Even Small SEO Investments Can Make A Big Impact
Shira Forge is a blacksmith shop located in Sylva, North Carolina, launched and run by Matthew Shirey. Matthew is a Penland School of Craft and John C. Campbell Folk School alum with more than 20 years of experience with the hammer and anvil. He hand hammers stunning one-of-a-kind knives, axes, and cookware.
Services Provided
SEO consulting
SEO editing
Image optimization
Mailchimp Optimization
---
The Challenges
Shira Forge's main challenges happen to be the challenges for almost all small businesses:
How to work on the business when working in the business.
How to make smart investments that increase business sustainably.
How to get the right help.
The Solution
For startups, the most challenging decisions can be when to outsource and invest in the talents of others, and when to take on tasks yourself. Matthew made smart decisions.
First, he joined the Waypoint Accelerator, an outdoor entrepreneurship and innovation accelerator program for early-stage, outdoor-focused companies. The accelerator provided invaluable business guidance and support. It's also what connected Shira Forge to Status Forward.
Additionally, Matthew launched an Etsy profile. Though the ultimate goal of most small niche eCommerce businesses is to sell more through their own websites, using additional established sites at first to secure reliable revenue is key. The Etsy income allowed Matthew to outsource website traffic growth to Status Forward.
Status Forward Services Provided:
SEO consulting
SEO editing
Image optimization
Mailchimp Optimization
Timeline: February 2020 – December 2020
Status Forward Digital Marketing Strategist Leah Quintal worked with Matthew to create an on-site SEO strategy that better organized his product categories and optimized his website for his primary offerings.
Our consulting arrangement also allowed Status Forward to take care of small tasks, such as:
Making sure Matthew's site analytics was up and running so that we can measure and compare traffic and sales data over time.
Adding a favicon to the site.
Sorting out website forms and email acquisition.
Connecting Mailchimp to Google Analytics.
Creating a Mailchimp welcome email and coupon code delivery for subscribers.
---
SEO Results
Status Forward was able to accomplish a great deal of SEO work with fairly minimal content work.
Before:
Prior to our work together, Shira Forge ranked for around 100 keywords and earned an estimated 37 visitors from organic search results each month.
After:
After our optimization work took effect, Shira ranked for more than 500 keywords and now earns more than 400 visitors from search engines each month.
Overall Traffic Growth
Overall organic traffic has increased by over 200%.
Search Results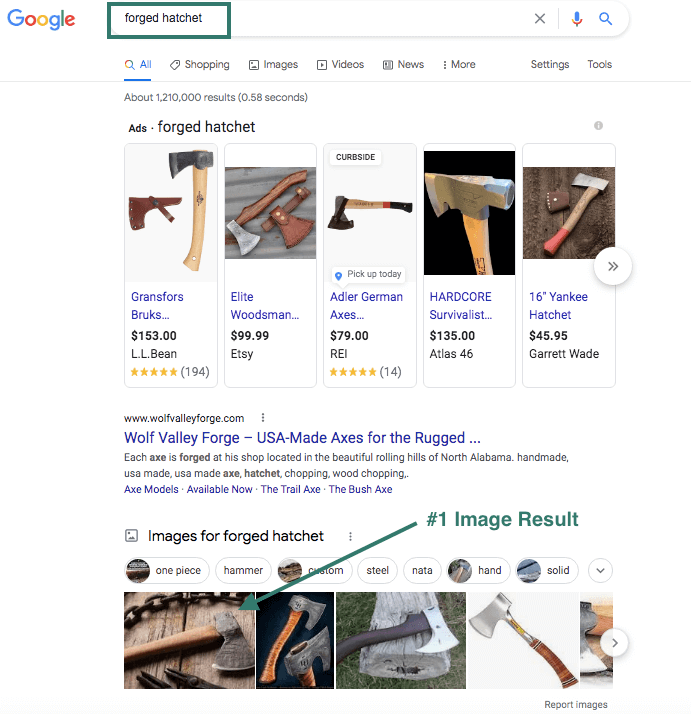 Email List Results
When it comes to running an online business, there are so so many tools to learn. For small businesses, it can be incredibly challenging to get all the tools to play nicely together.
When we began working with Matthew, he had successfully created a pop-up on his website to encourage visitors to sign up for his email list to learn about new products and other news from the Forge. Nice work!
Unfortunately, the emails were not getting imported into the list Matthew was using to send his newsletter.
Status Forward fixed the problem and reorganized Matthew's Mailchimp account to better serve his needs. No more lost email addresses! Additionally, the design team updated the Mailchimp templates to match Shira's brand and developed an automated welcome email for new subscribers.
---
Kind Words
"Working with SF has clearly increased the traffic to my site and "fine-tuned" my website to where it is more efficient. I've appreciated the guidance and input received and feel like I have a better understanding of how to run an online business. I also really appreciate that I can email with questions and count on a thorough response."
– Matthew Shirey at Shira Forge